Find The Right Cleaning Solution For Every Type Of Upholstery In Putney sw15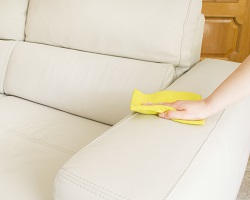 The Benefits of Upholstery Cleaning in Carpet Cleaning Putney, SW15

Upholstery cleaning is a sensible and wise option if you don't want to throw away a beloved seating set. At Carpet Cleaning Putney we provide top-notch sofa cleaning services that return furniture to its original glory. Our steam upholstery cleaners will treat all kinds of upholstery, including leather and microfibers, using the latest and most effective equipment. Our team are highly trained and experienced in providing a safe, reliable and quality upholstery cleanup service at an affordable price.

When you hire Carpet Cleaning Putney for your sofa cleaning needs you can rest assured that your furniture will be treated with the utmost care and respect. We use the latest steam-cleaning technology to ensure your fabrics are thoroughly deep-cleaned without damaging or discoloring them. Our stain removal process is also foolproof and provides long-lasting results that look so good you might think it's brand new!


Safe Fabric Cleaning in SW15

Safety is a priority at Carpet Cleaning Putney, so when it comes to our upholstery cleaners, we only use eco-friendly products and processes. All our environmentally friendly cleaning products are safe for pets and young children, yet still incredibly effective at removing stains and odors from any piece of furniture. So, you can trust us to safely clean your couch or armchair without leaving behind any residue or unpleasant odors!

We also pride ourselves on providing a professional curtains cleaning service, so you can rely on us to get rid of all dirt, dust, mites and allergens from your old draperies as well. We understand how important it is for you to have clean curtains – not just for aesthetics but for health reasons too. That's why we offer such an extensive range of curtain cleaning services for clients in SW15.


Why Choose Carpet Cleaning Putney's Upholstery Cleaners?

Carpet Cleaning Putney has over 10 years of experience in the industry, ensuring that you will get the best possible service when you book our sofa cleaners in SW15. Our professionals come equipped with state-of-the-art machinery designed to deliver amazing results every time! And with same-day service available, free quotes over the phone and discounts for regular customers – there's no better choice than Carpet Cleaning Putney.

If your upholstered furniture deserves some TLC, then don't hesitate to give us a call on
today! Our team of friendly professionals is here to answer any questions you may have about our upholstery treatment services!